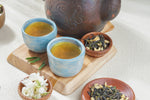 Green tea is a drink -- with many variations and blends -- enjoyed by many cultures and people.
However, aside from its great taste, green tea contains many health benefits. Let's take a brief look at those benefits and how switching to green tea might be a good option if you're aiming to limit caffeine consumption.
Green tea contains a variety of micronutrients: calcium, iron, and potassium. Green tea also contains polyphenols-- a common antioxidant (found in plants) known to aid digestion, brain, and cardiovascular health. It's important to note that these nutritional benefits dilute when consumed as purely steeped tea.
Does green tea have caffeine? Yes! However, It takes roughly 5 cups of green tea to match the caffeine levels of a single (8oz) cup of coffee. If you prefer drinking cold brew, then the caffeine content is even less when compared to drinking it hot.
What are the health benefits of cold brew green tea? There is no difference between hot and cold. The quality of the leaf and steep duration determine the overall nutrient density. 
At Harum, we work directly with local farmers throughout Indonesia, to ensure our herbs and teas are high quality and grown with care. See our green tea selection here: https://www.harum.shop/collections/frontpage/green-tea 
For recipes, blogs, and all things tea join us at www.harum.shop/ or follow us on instagram. We are based in Victoria, British Columbia, and are committed to sharing our organic loose-leaf teas from Indonesia with North America.
All perceived medical benefits have been researched but should be independently verified.